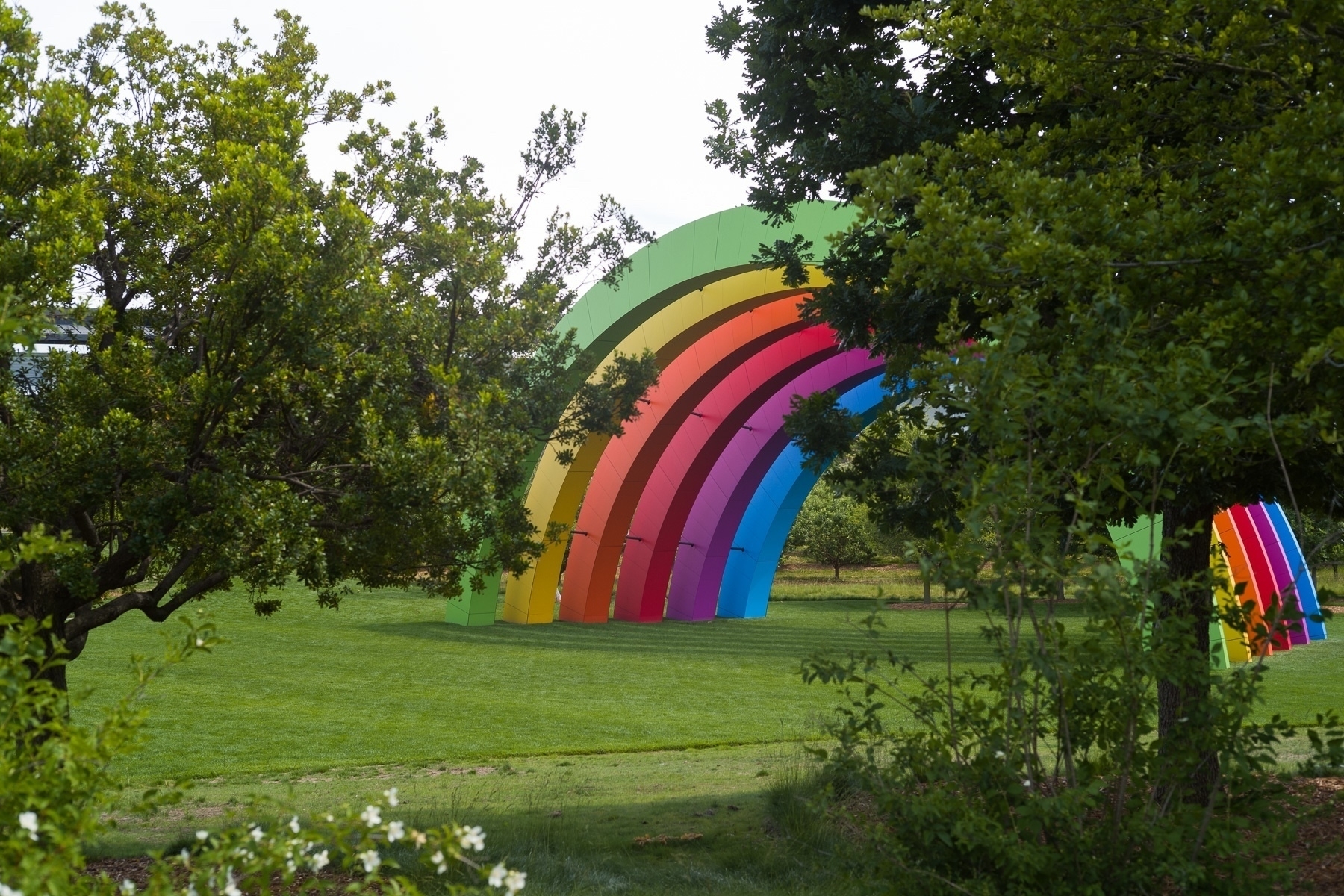 Last week I went to Cupertino for Apple's Special Event at Apple Park.
The Main Event
The announcements at the event and the hot takes around it have gone around the internet, and the world, perhaps a dozen times by now. This is not a post about that, but about my personal experience.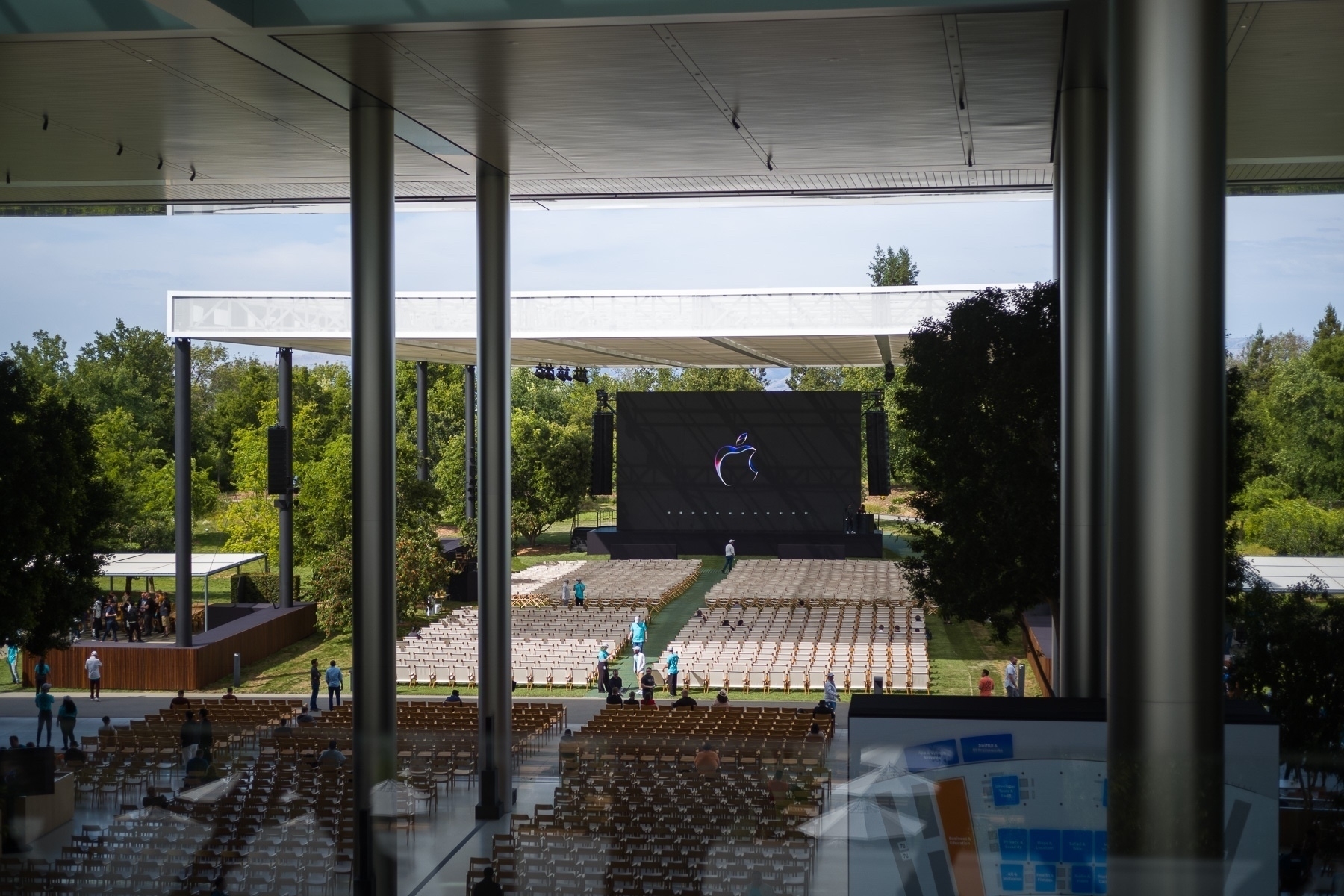 I arrived about an hour before the keynote. After going through the security check, I made my way to Caffé Macs where the event was set up. There was food and beverages. I picked up some coffee, some overnight oats with blueberry compote, and a savory pastry. Once I was done with that I found spot amongst some Apple engineers just in time for the keynote to start.
After the keynote was lunchtime. I walked round for a bit looking at all the food options before settling on the grilled chicken with salad. I took this over to the inner meadow where there were a number of tables set up.
I sat down randomly and started to eat and chat with others. Turned out I was sitting right next to an industrial designer on the Vision Pro, so the conversation was mostly about that.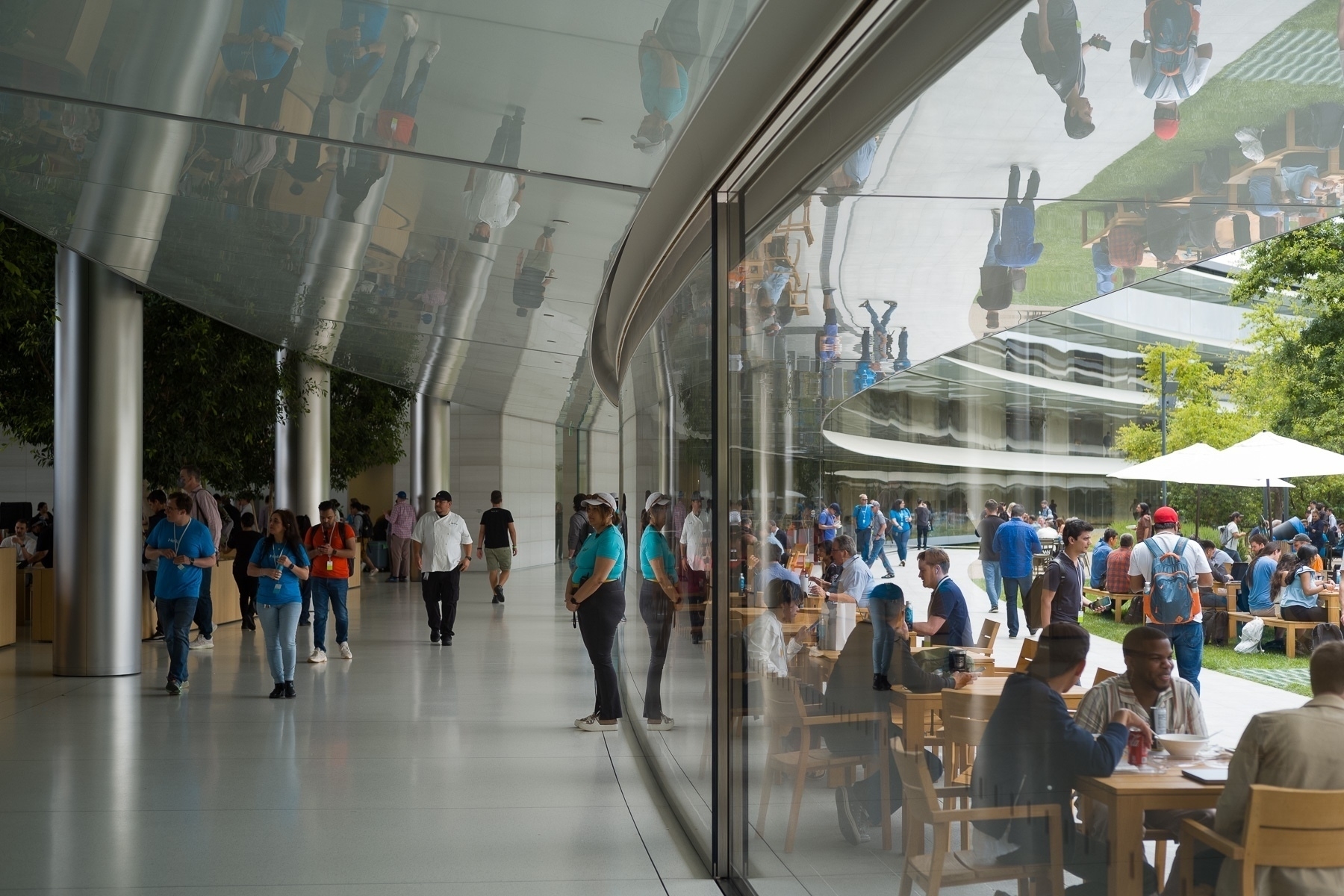 Then it was time for the Platforms State of the Union. At first I went to the outside area by the main stage and sat on the fabric lounge chairs, but that was bothering my back so I came back inside to sit on a sturdier chair.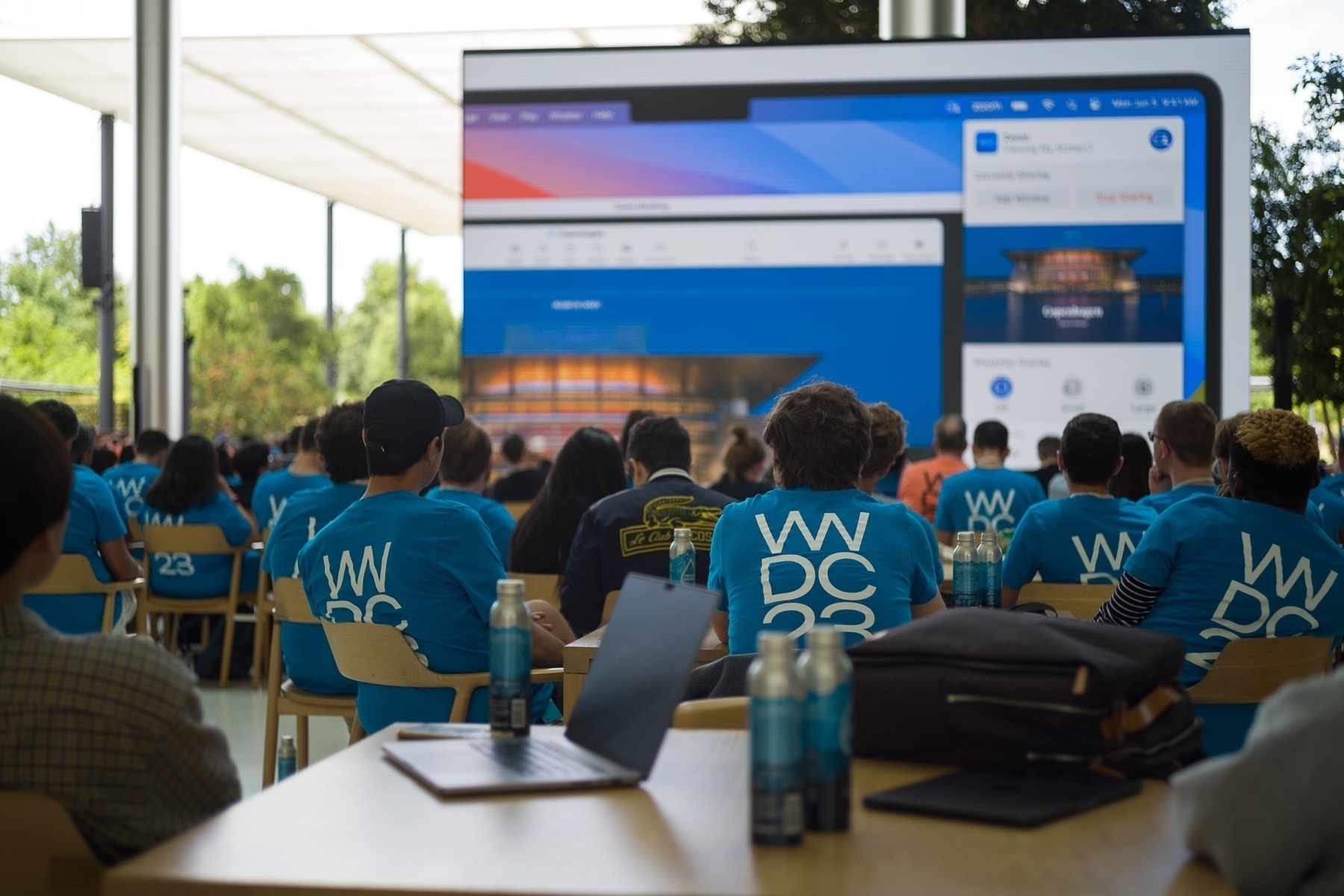 As I watched the video, I also noticed the space, how it was full of sunlight, large indoor trees, and expansive and seamlessly transitioning from inside to outside. And every bit of it was curved. This was certainly a unique space.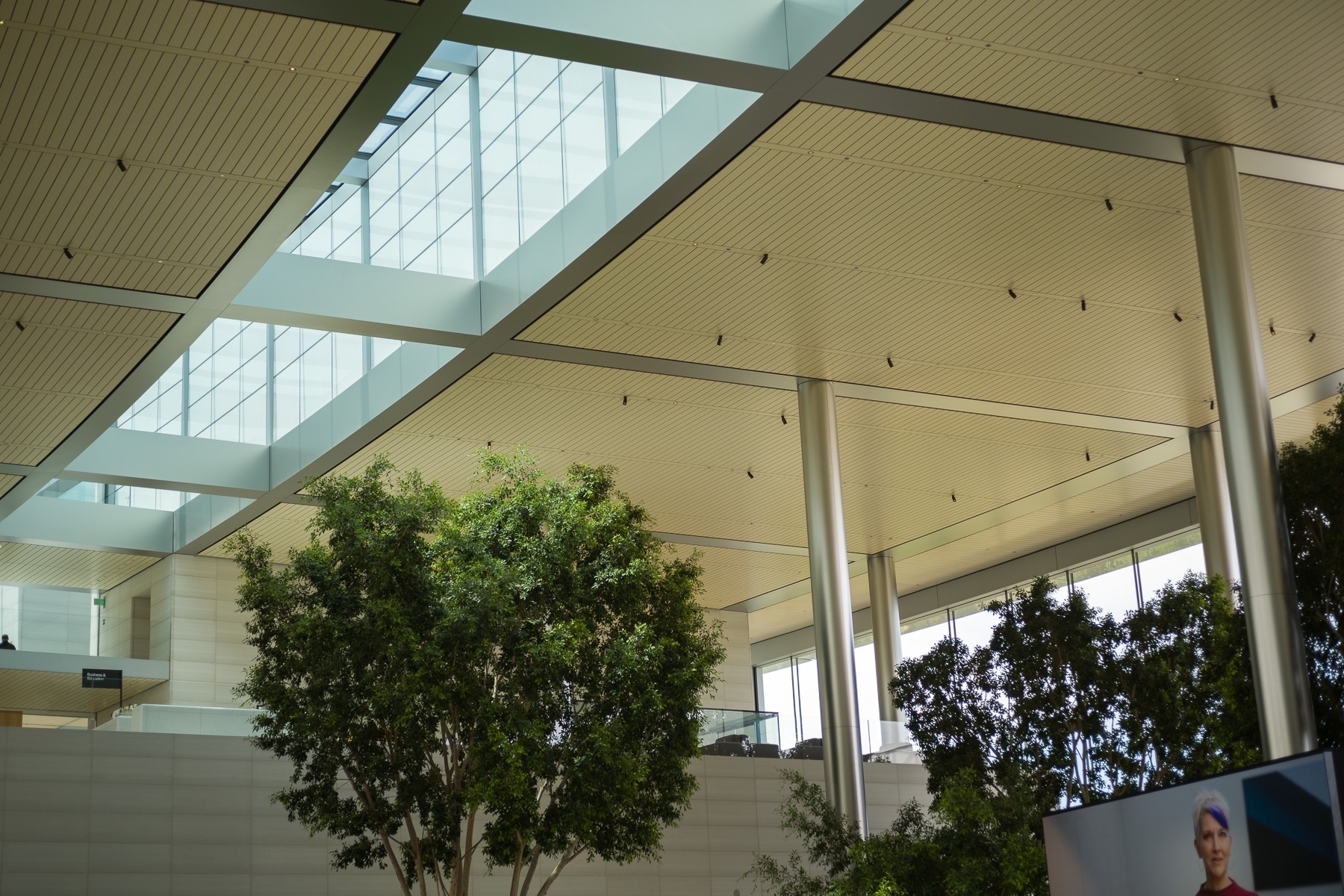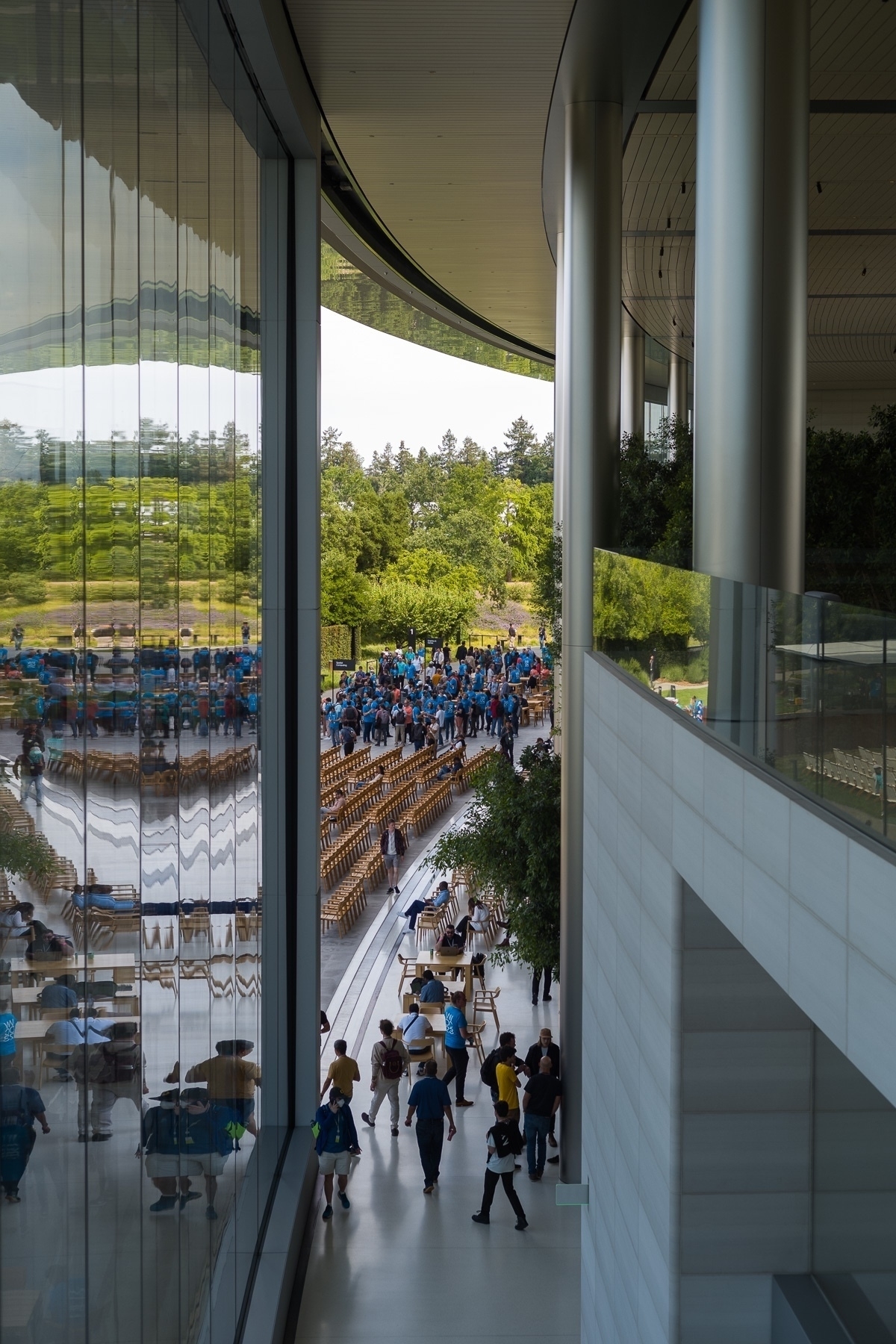 Once that video was done, it was time for other social events. I had previously signed up for walking tours of the inner meadow and of the ring building, but that system seemed to have not worked too well for Apple as they were now just organizing all that on a first come first served basis. I got in line for the inner meadow tour.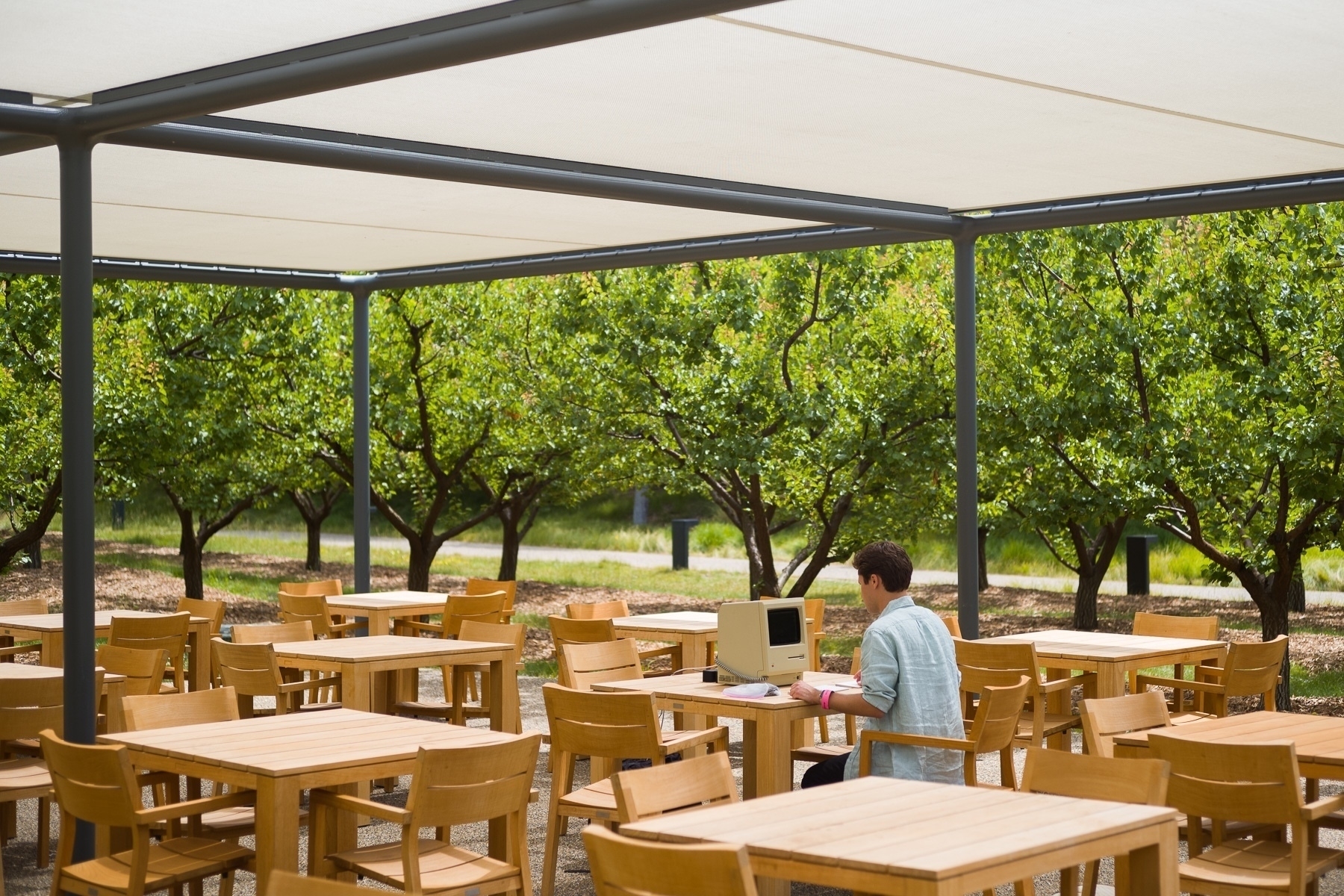 The tour lasted about thirty minutes. Our first stop was by some fruit trees where a docent talked about all the fruit they grow and how it is all set up.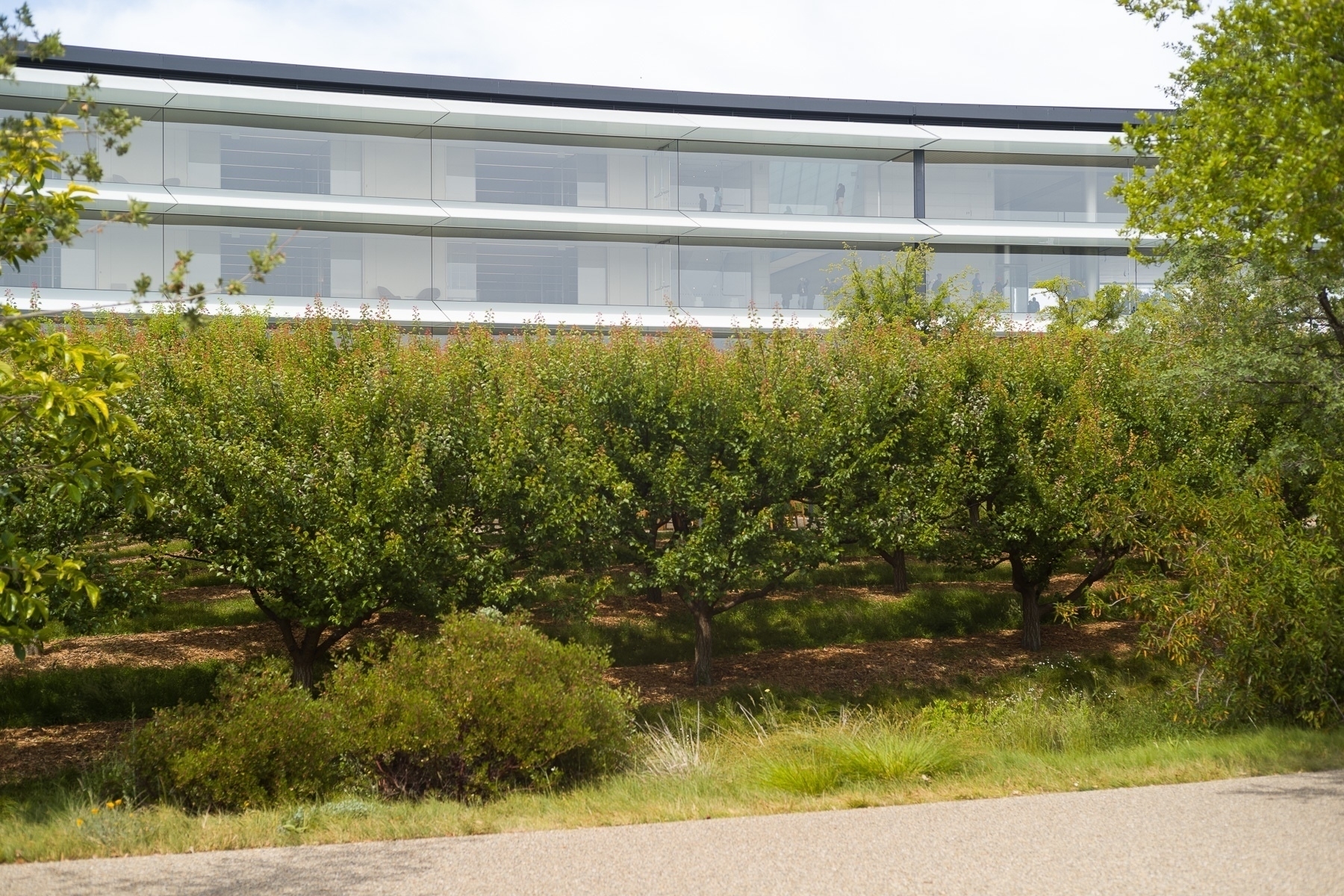 The second stop was by a shallow pond. In the center of the pond was a round plate that goes up and down. This creates a gentle wave that is imperceptible unless one is looking closely, but makes a definite wave crashing sound as it reached the edge of the pond. that was pretty cool.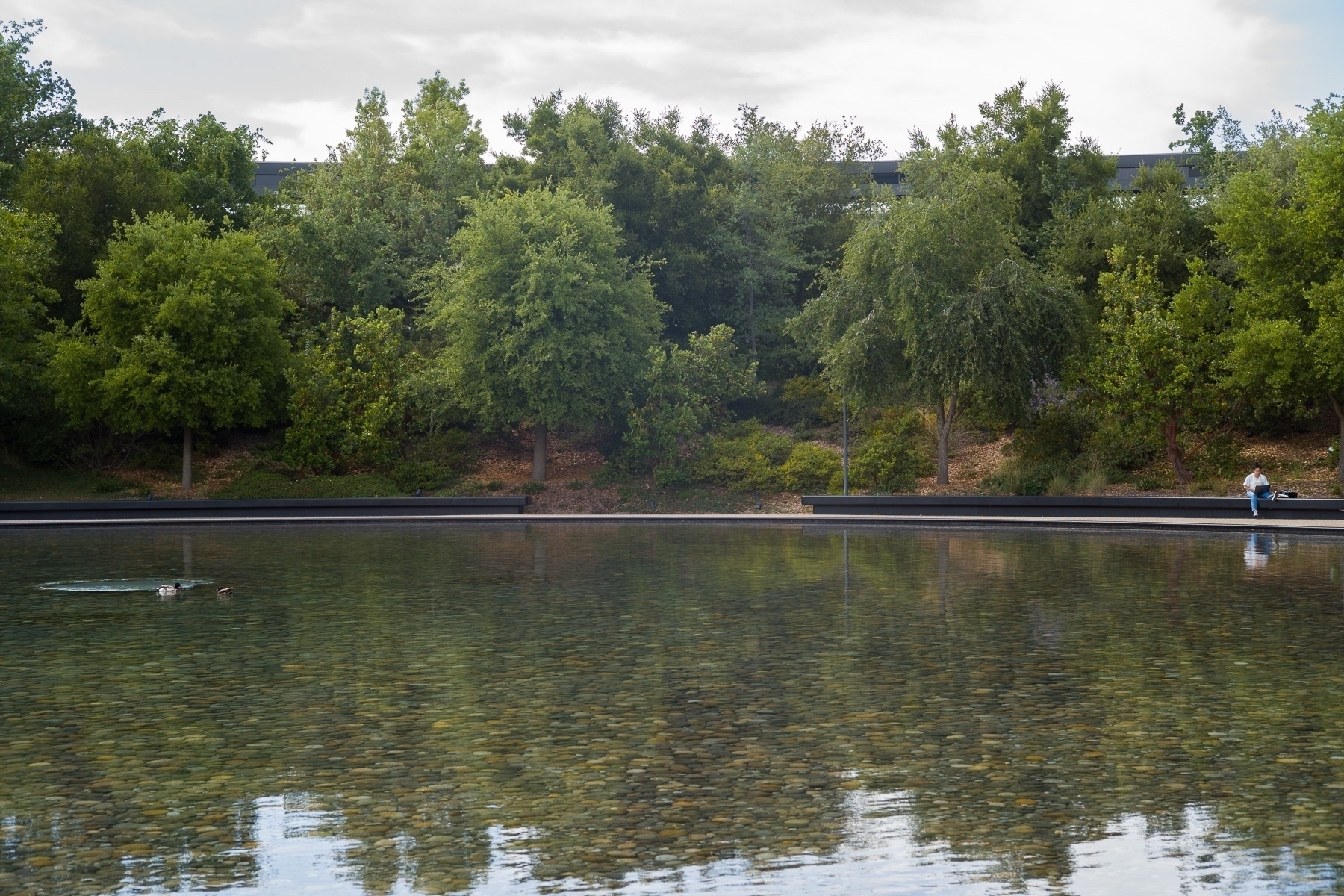 The third and final stop was by the rainbow arches where a different docent talked about how it came to be as originally a temporary sculpture that was later made permanent. Then we made our way back on the same path.
Right after that I got in line for the building tour. This was very popular and there was a lot of management going on to get people into small batches and move them along as tour guides returned from their previous tour and started a new one. At this point it definitely felt like I was in line for a theme park ride.
The ring tour took us upstairs to the third level from one side of Caffé Macs. Then to the inner side of the building, across the terrace overlooking the main event area and back down.
At one point a docent talked about the structure of the building. Some interesting facts:
Outer circumference is one mile. Inner circumference is 0.75 mile.
There's a four feet quake zone all around the outside, so the whole building is capable of moving significantly in case of an earthquake.
The two massive doors are the largest ever of their kind. And apparently super quiet when opening/closing.
A lot of the dirt from digging up the foundation is piled up and forms the landscaping.
The land is 80% greenery and 20% building. Previously it was the opposite.
The roof hosts the largest solar installation on a building.
The building temperature is maintained at a comfortable level by passive mechanisms most of the time.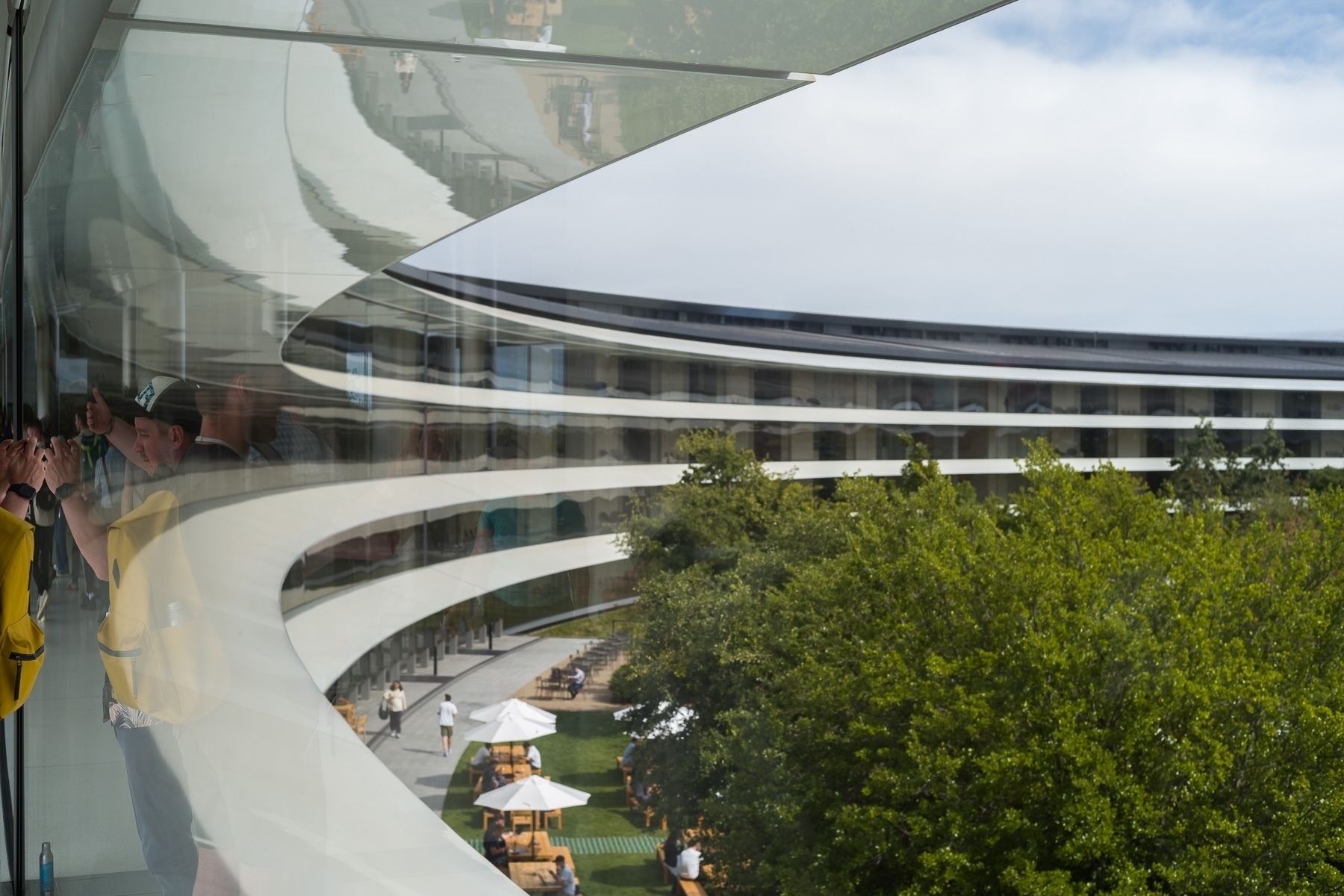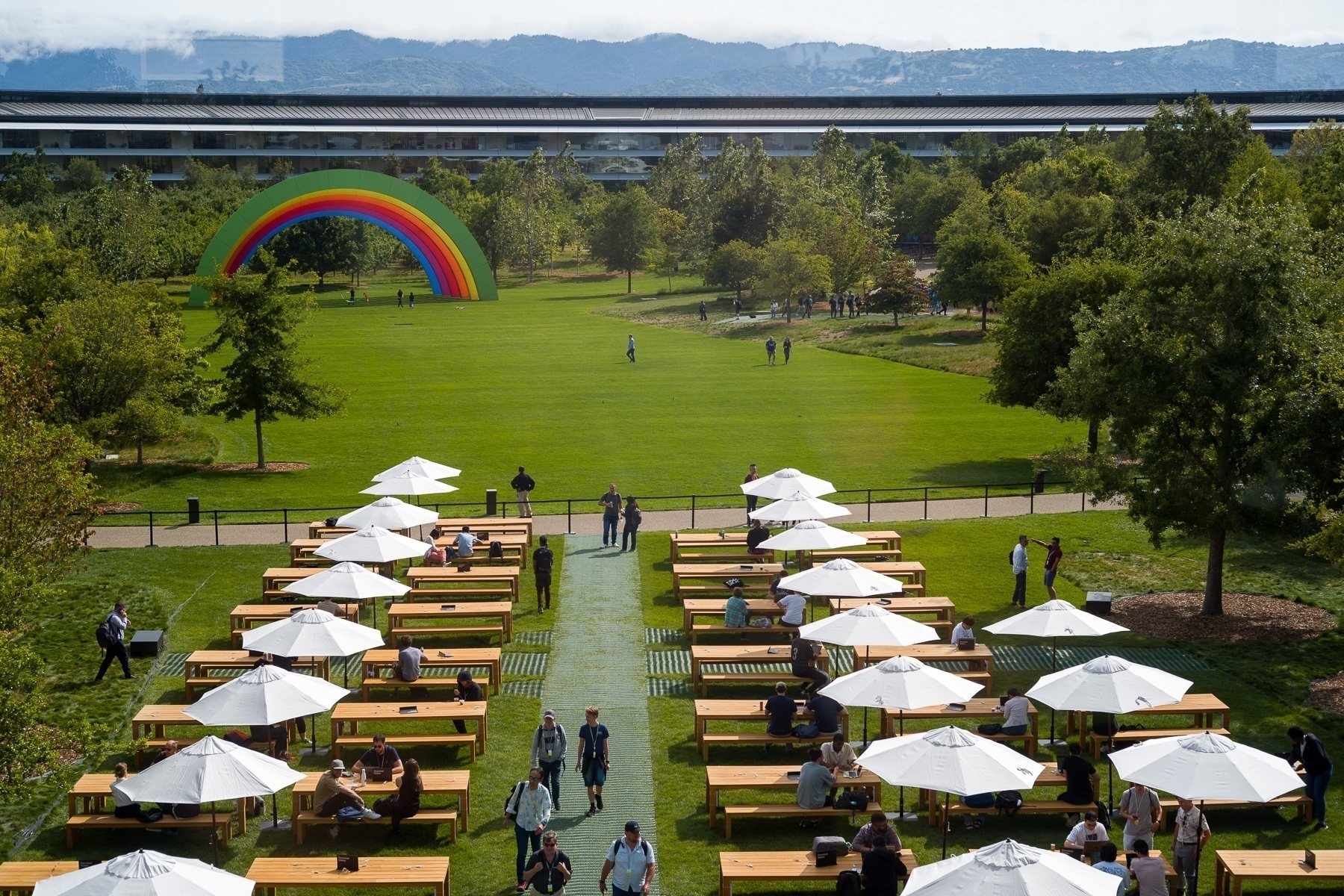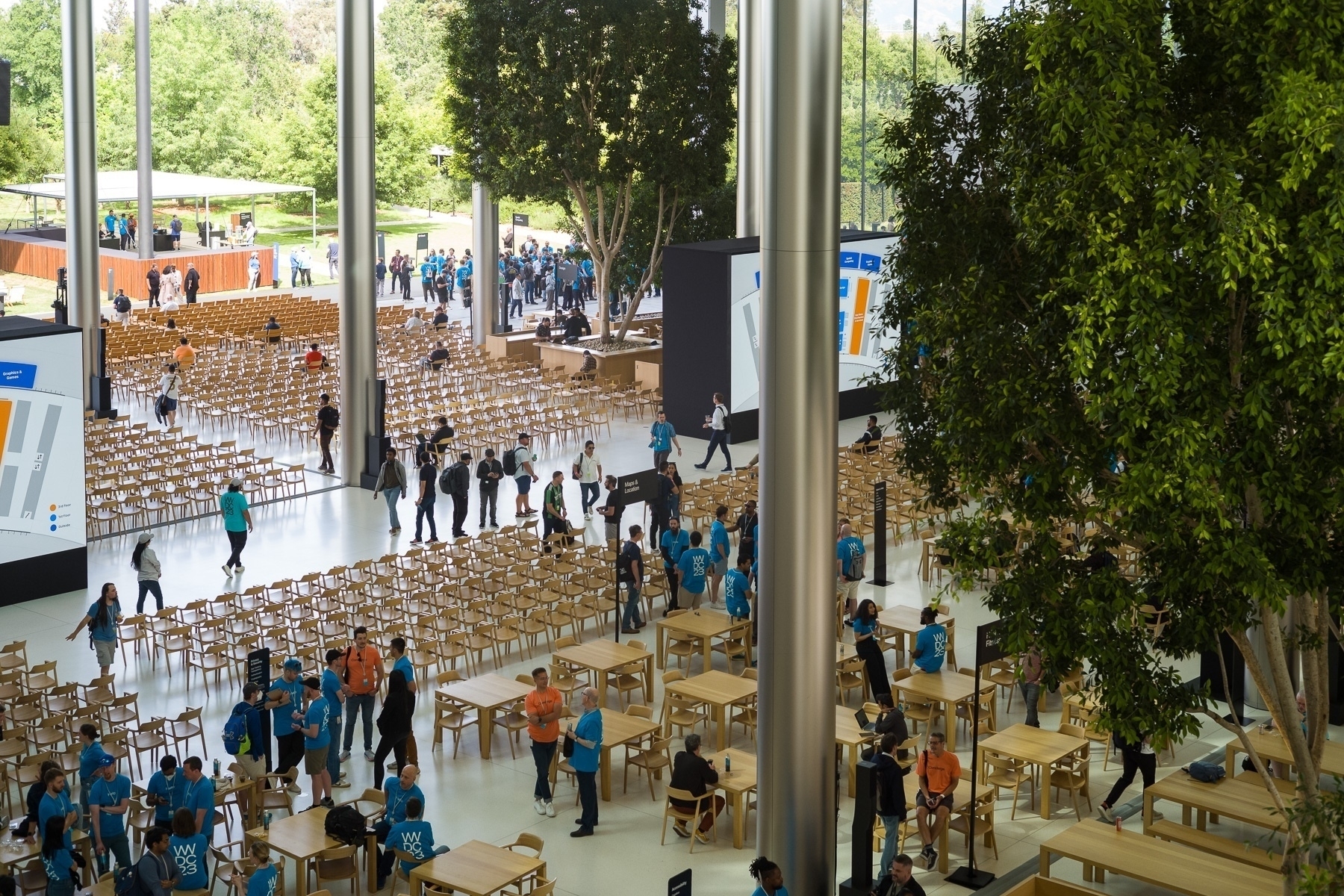 From there we walked over to an area by the campus transit center. There we descended to a lower level where a gallery space had been set up showing photos and videos from behind the scenes of a project called Mirage. There were even some samples of the cast glass made for the project.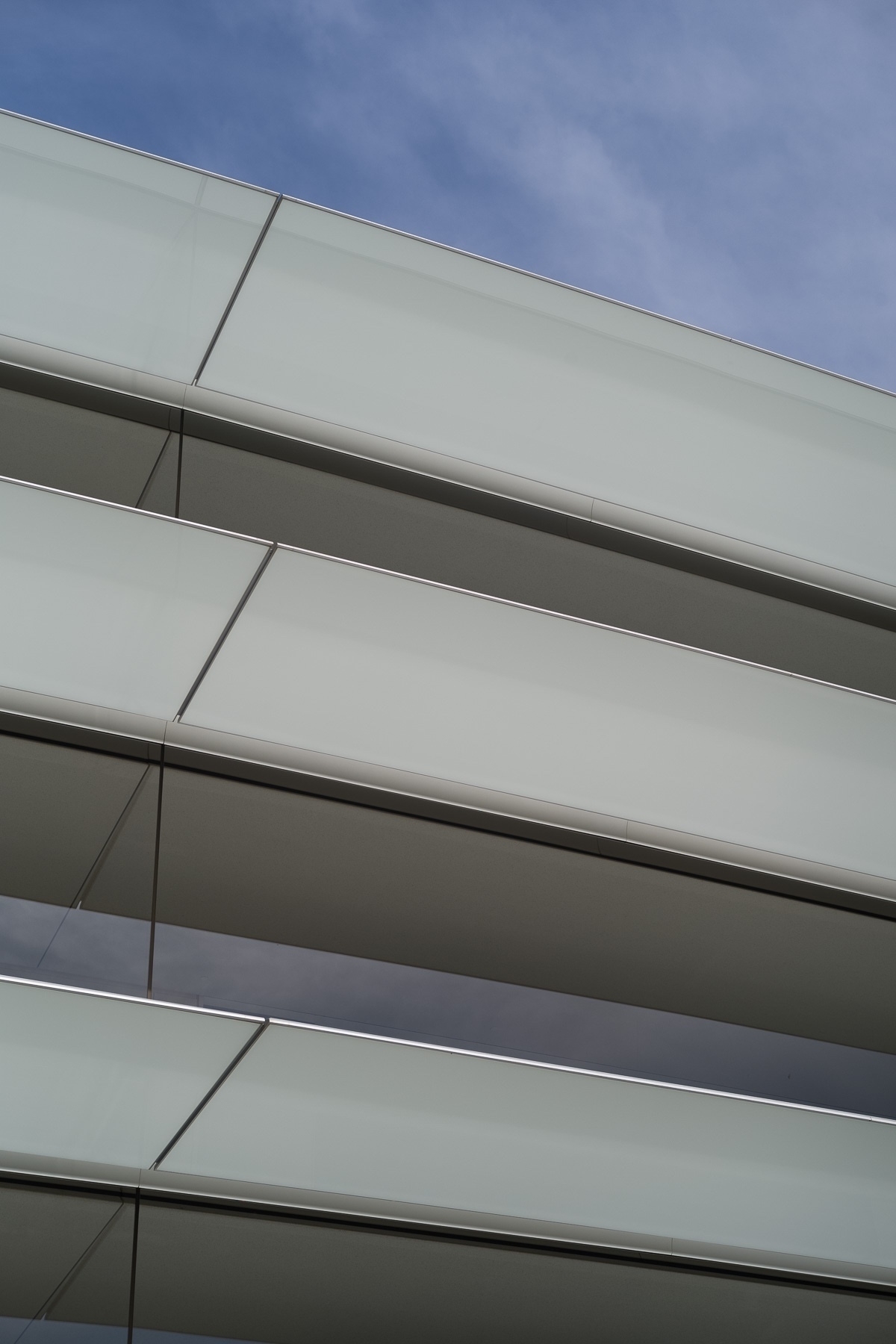 Next up was the Apple Design Awards event. While it is definitely a crowning achievement for the winners, it is always fun and inspiring to see all the apps that make it to the finals, and this year was no exception. There was a lot of excitement and joy in the design awards.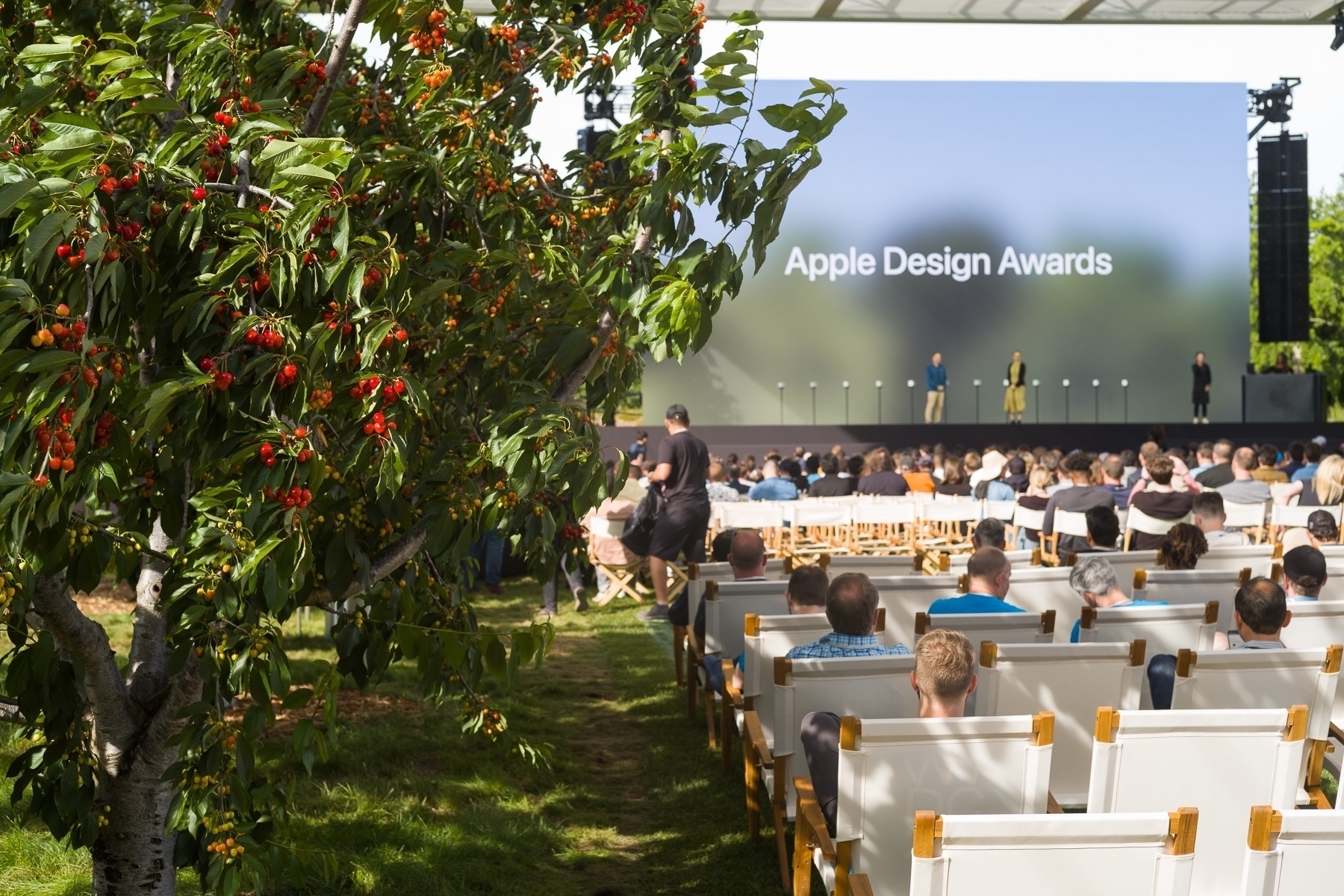 Following the awards ceremony, was the final event of the day. It was billed as "Special Evening Activity" in the days leading up to WWDC, but it was announced earlier that it would be a visit to the Steve Jobs Theater for something related to the Vision Pro hardware. It was unclear if people would get a chance to try it out so there was suddenly a surge of people towards that direction because of course no one wanted to miss that opportunity if it presented itself. The crowd was met by a line of Apple employees that stopped the flow, while whatever final preparations were made so that we could be led there in small batches. Apparently inside the cafe were preparations for beverages and dinner, but I'm not sure if anyone made it to that.
Thankfully I was near the front of the crowd, so my wait was only about thirty minutes. I walked over to the theater, which was hidden from view until the very last bend in the path.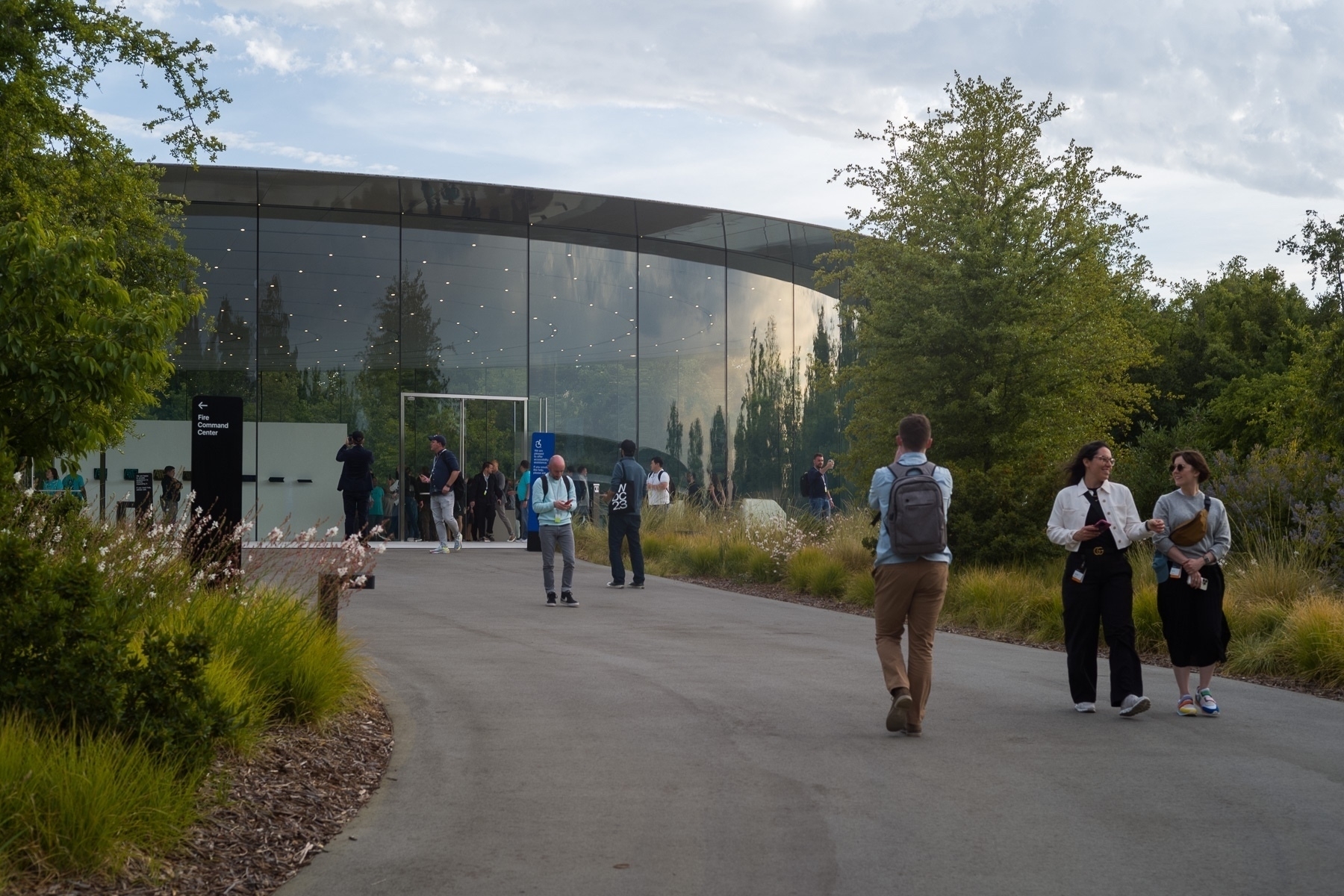 Inside the building was a display of all the new mac hardware but also a line to go downstairs. I made my way down there and into a hands-off area where a number of Vision Pro were on display to see, but not to handle.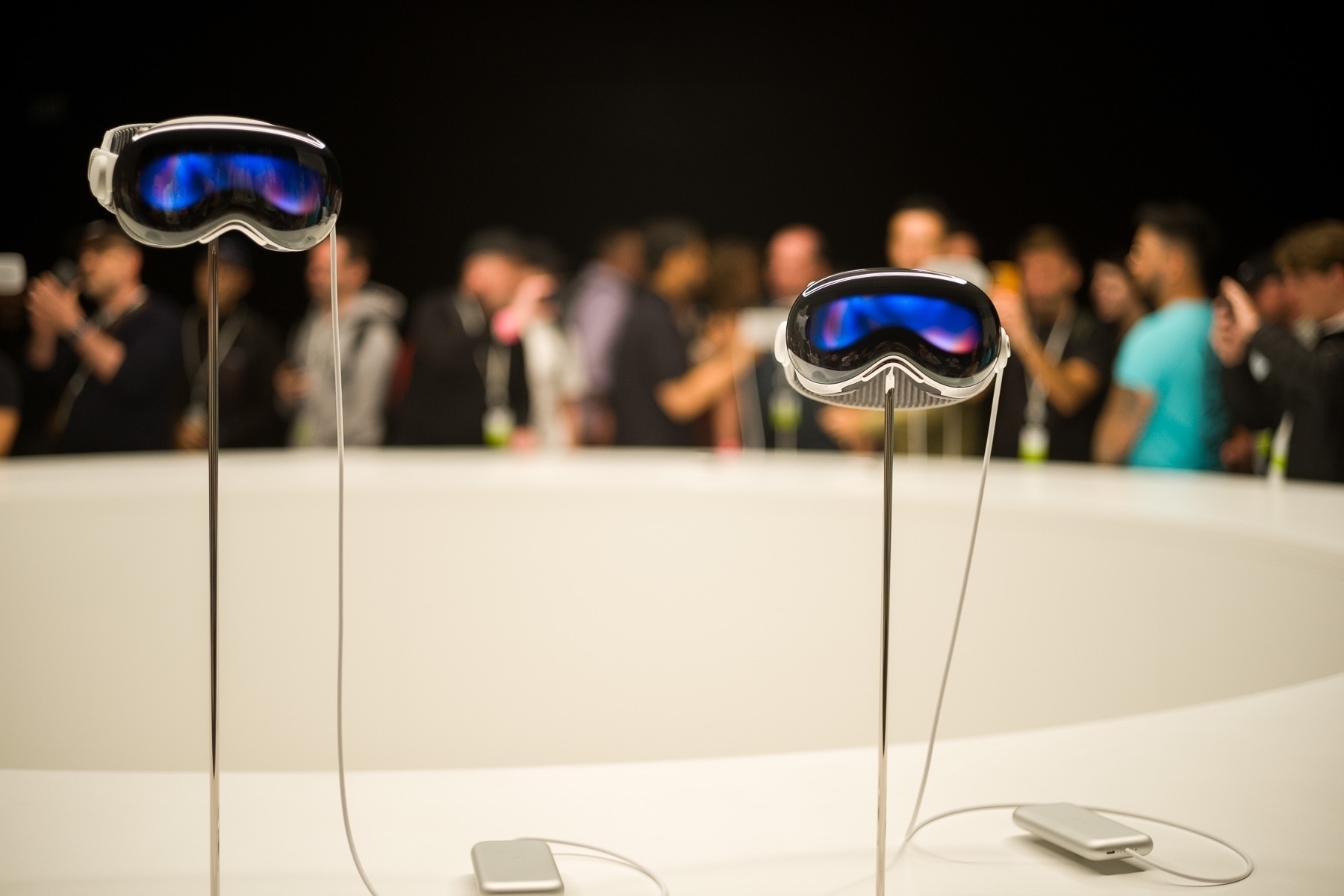 A few minutes later as I emerged from the theater building, I saw this lovely sunset view of the grass and the main building.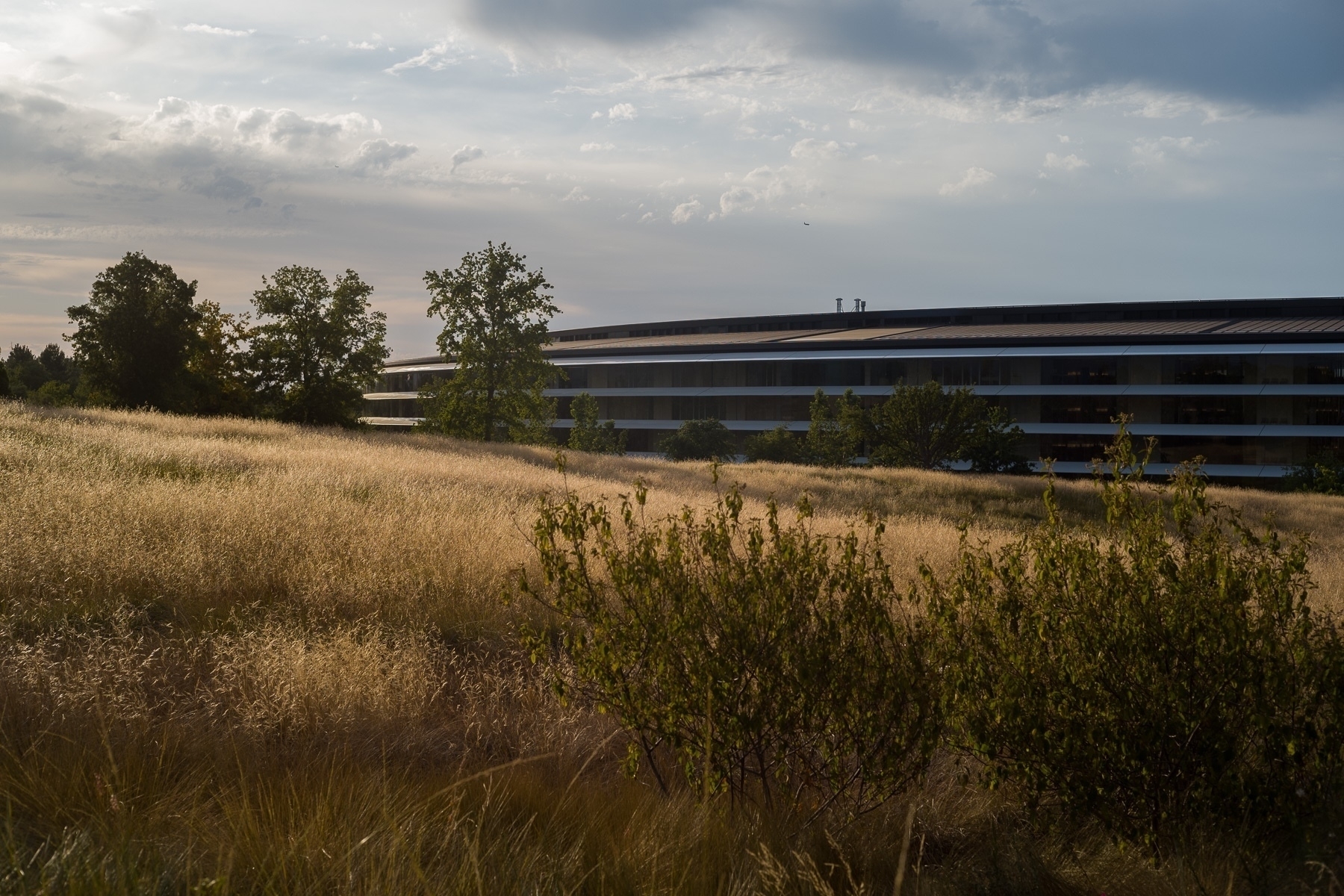 From there I made my way out as that was it for the day.
The Evening Before the Main Event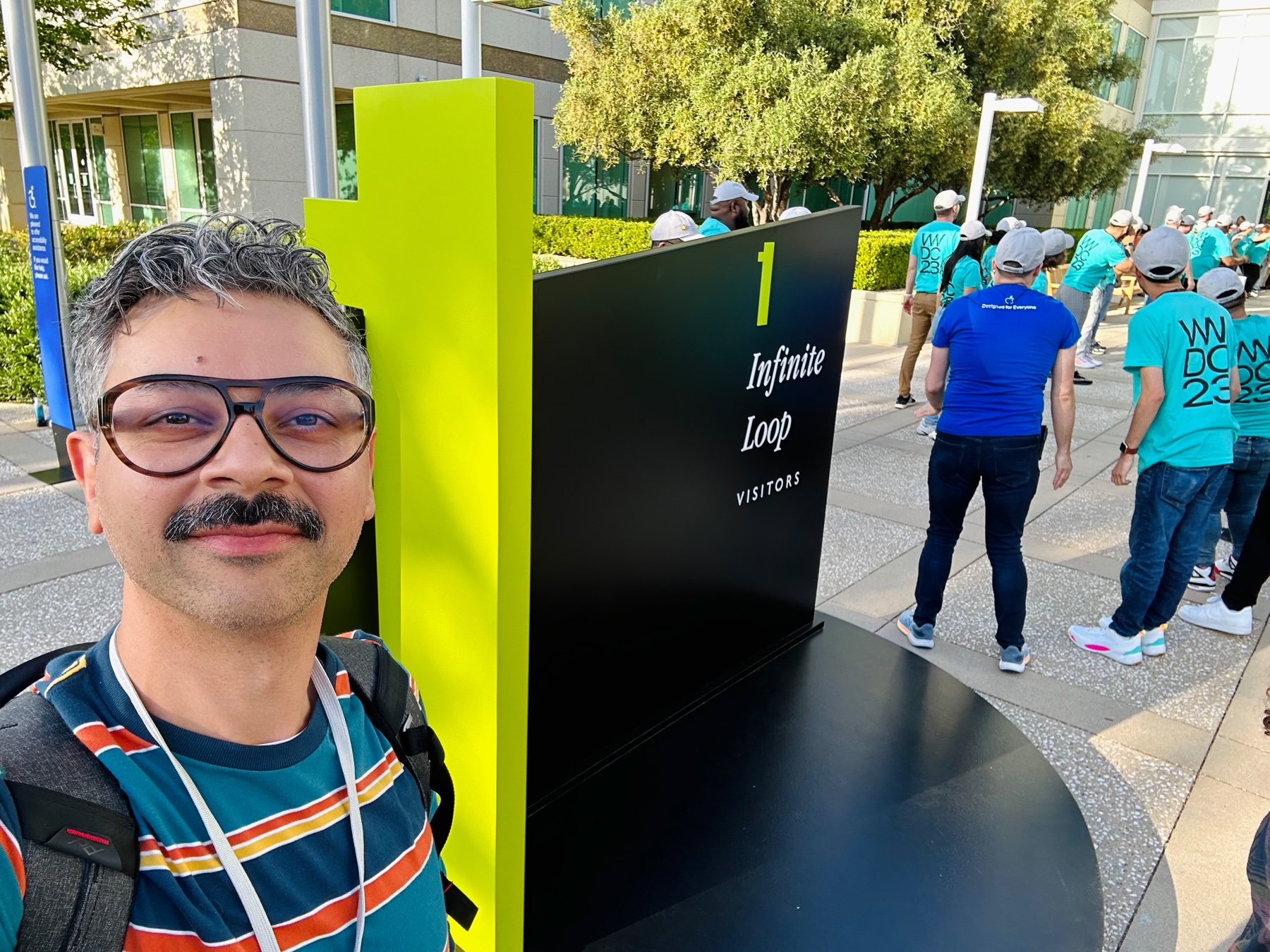 The main event was on Monday, but an early check-in gathering was organized for the evening before at Apple's old headquarters at Infinite Loop. I arrived there at about 6pm. There were hundreds of Apple retail employees at various stations for facilitating check-ins and to greet people as they arrived and left. On check-in I received a badge and also a tote bag filled with goodies.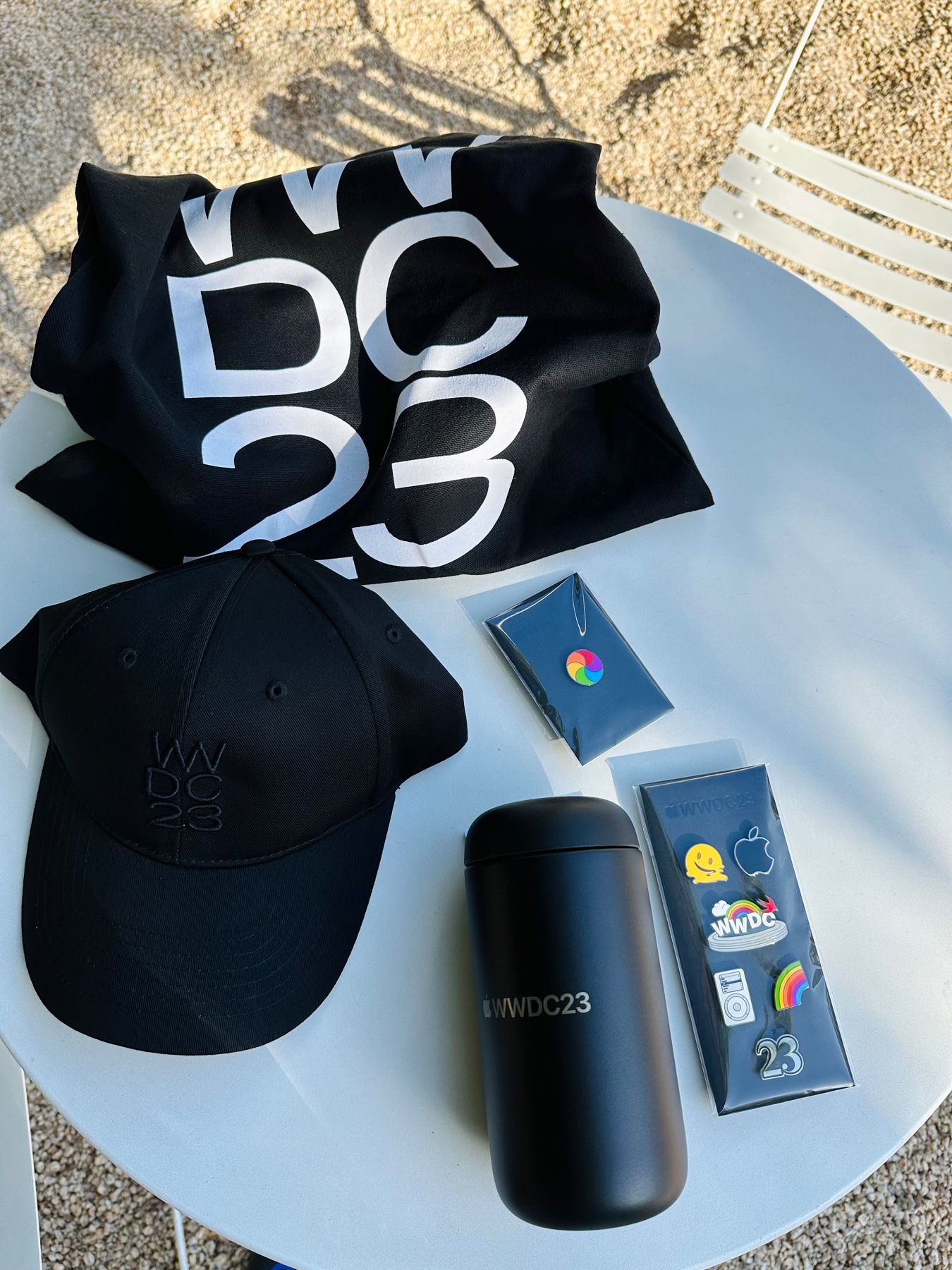 The gathering was in a courtyard-like large open area surrounded by campus buildings. There were beverages, and seating. I got a beverage and mulled about the crowd. I met a couple of people I knew from online, and a few other people that I'd not met before. I was there for less than an hour and left shortly before the event ended, to make my way to Miniboss Arcade in downtown San Jose for the RevenueCat party.
The Morning After the Main Event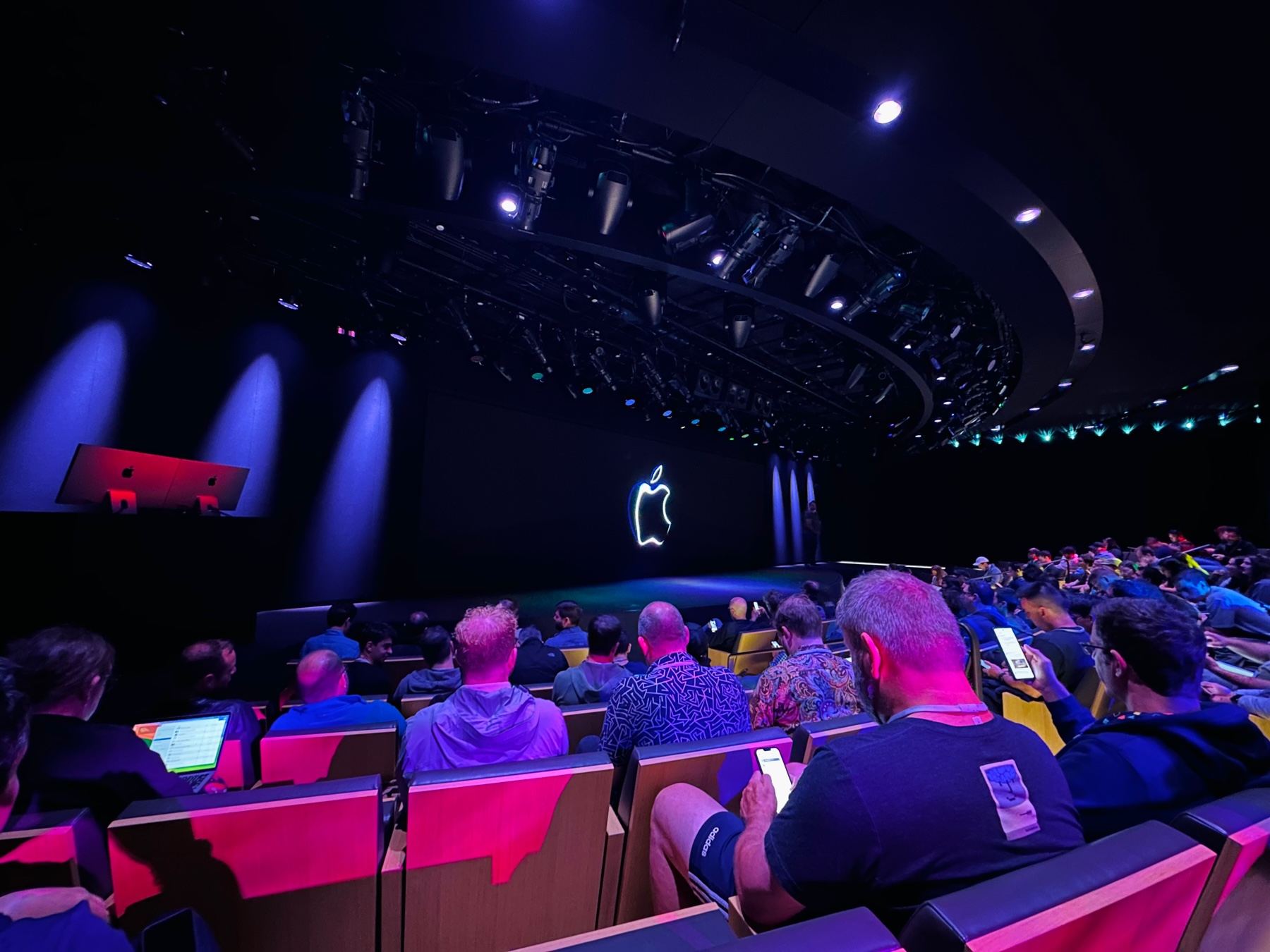 On Tuesday morning I went to an event at the Apple Developer Center, across the street from Apple Park. We were led into their Big Sur theater that seats two hundred people. There we got a live presentation about the space and how it is relevant to developers. That was followed by second presentation about developing for visionOS using RealityKit, ARKit, Reality Composer Pro, and the new simulator. It looks like Apple has put a lot of thought into making this new platform approachable by developers who currently build apps for all their existing platforms, but perhaps have no experience with developing for headsets using 3D frameworks.
After the presentation we were led to a space that had beverages and food for socializing and meeting people from relevant teams at Apple. This developer center event was unexpected and I was pleasantly surprised at the thought that went into it. It was a nice culmination of my time in person at WWDC.
My heartiest gratitude to the people of Apple for their hospitality ❤️